Welcome LRSI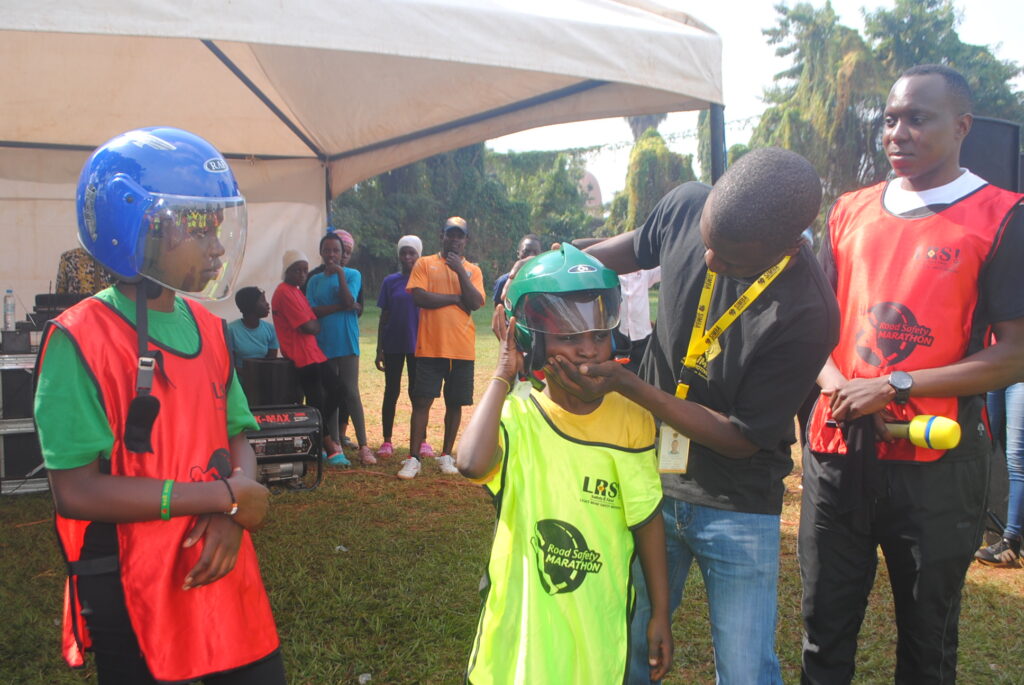 A big welcome to our latest member organisation, the Legacy Road Safety Initiative (LRSI). which advocates for greater road safety by focusing on safe school journeys, post-crash emergency care, road user training and empowerment, and research.
In their own words, we asked them to tell us why they chose to join KCS's global members' network:

What made you decide to join the KCS as a member?
KCS is an authority in safeguarding children against all circumstances, and any organisation in need of quality partnership to impact their community will definitely want to work with them. 
As LRSI, our heartbeat is for the safety of young people on roads on their way to secure a future or the marketplace, and in our endeavours to create and promote road safety and sustainable mobility for them, we are open to partnering with like-minded organisations such as KCS. Road safety is everyone's responsibility, and we believe through partnerships we can achieve more and go further.
KCS is known the world over for its wealth of experience in shaping up organisations to best deliver their mandates in child safeguarding & keeping industry standards. Therefore, being a member is a privilege to be a part of the unlimited great workshops and training, and have access to world-class materials plus other support, not to mention the opportunity to interact with the other network members.

What is the key driver in your ambition to implement child safeguarding?
The ever-increasing number of our children and adolescents are losing their lives on the roads daily on the way to school – road traffic crashes are the No. 1 killer of young people aged 15–29 years and the fifth (5th) killer of young people aged between 15–29 years globally. The WHO cautions/advises that unless serious action is taken urgently, road traffic deaths are expected to become the fifth leading cause of death amongst all ages by 2030.
Uganda is one of the youngest countries in the world, with over 70% population below 35 years. And being one of the countries with the highest numbers of road crashes in East Africa, where the accident severity index is 24 people killed per 100 road crashes. On average, Uganda loses 12 people per day in road traffic crashes, which is the highest level within the region. Hence, the overall annual cost of road crashes is estimated at approximately UGX 4.4 trillion ($1.2 billion), representing 5% of our GDP.
The majority of the victims are school children most of whom use the roads during morning, afternoon and evenings which are peak hours for traffic trekking to and from schools, not to mention the overcrowded and speeding public vehicles on these roads. These factors coupled with lack of basic road safety education, poor post-crash care for crash victims, limited use of child restraint systems (CRS), limited use of seatbelts & helmets, limited safe crossings for children & the few available are worn-out, motorists being insensitive to young people on the road, children using boda boda (motorcycles) as a means of transport, limited awareness & sensitisation on road safety and no involvement of young people in decision making on the issues affecting them most, bad roads etc. have cost us huge loses.
Where do you think your organisation will be regarding child safeguarding in a year?
LRSI is advocating for children's safe crossings near schools by partnering with the road authorities to improve infrastructure in these high-risk locations, will have trained and sensitised over 10 schools on the use of child pedestrian crossing & push button crossings, launch road safety clubs in schools to create a platform to promote child ambassadors as well as encourage peer to peer engagements, trained more teachers and crossing guides to aid children to cross roads safely, trained & empowered children in administering first aid, equip them on road signs & the use of traffic lights, enhance our advocacy and awareness amongst transport operators to be more alert on children walking, cycling or being transported, advocate for a place at the table for young people to make their voices heard.
But above all, we shall have strengthened our systems and policies to be able to enhance our capacity and increase coverage to more beneficiaries across the country.

What message do you want to tell your staff, donors and the wider world?
There could never be a better time to be alive than now, no matter where you are because you and I have an opportunity to make this world a better place to live in. We are privileged to be joining Keeping Children Safe (KCS) – a global giant in child safeguarding practices, as a Network Member organisation and what this means is that our standards are rising, and we're shooting for international best practices in all our operations to promote the safety of young people in our country. This is exactly what happens when you associate and stand on the shoulders of giants. Therefore, I urge you all in your different capacities as staff, board members, donors, our followers and the entire public to step up your input, add more support, and join us as we take our services in the community to another level. LRSI believes "Safety is Fast" all the time; so, help us make this a reality for the young people in our country who are braving the deadly roads daily in the quest for their future. Remember, no matter what you do here on earth, you play a central role in the history of the world, oh how I wish we can consolidate these efforts together after all road safety is everyone's responsibility.

You can find LRSI on Facebook: https://www.facebook.com/lrsinitiative